If you're hurt in a car accident at work, you need Workers' Comp benefits from your employer. Your Workers' Comp lawyer can help you get compensated for your injuries, pain, and wages.
For many of us, driving is part of the job. Whether you're a delivery driver, a truck driver, or driving is only a small part of your job, you may spend hours behind the wheel every week.
Sadly, that means you're at risk for a serious car accident at work in Virginia.
After your car accident, you're in need of benefits to help you recover from your injuries. At Pathfinder Law, we're ready to guide you to the Virginia Workers' Comp benefits you're due.
Who's Liable for a Car Accident at Work?
When you're hurt at work in Virginia, one of your first concerns may be about who caused your injuries and who should pay for them. Someone should be held responsible for their actions, right?
Because you're facing a Workers' Comp claim, you may not have to worry about who caused the accident, in most cases. Your employer is responsible for the actions of their employees, and if something happens on the clock, they're responsible for it.
But liability can impact your Workers' Comp claim. For example, maybe you were intentionally hurt by your employer, or your employer was breaking the law. In these cases, your work accident lawyer in Virginia can discuss your options outside of your employment benefits.
Learn how we can help

you

with your vehicle accident Workers' Comp case.
Compensation for a Virginia Car Accident at Work
Hurt in a serious car accident while working in Virginia? You've got a shot at getting compensated for your injuries through your Workers' Comp benefits. The problem is, you may have some questions about what these benefits really cover and what you can receive.
Below is just a sample of what you can expect from your Workers' Comp benefits. Your work accident lawyer in Virginia can help you ensure you're getting the benefits you need for your recovery.
Medical Costs
A Virginia car accident can cause some severe injuries, from back injuries to concussions and more. Because of this, you may already have medical bills piling up. Worse, you don't have the funds to pay for them.
That's where your work accident lawyer in Virginia can step in. They can help you get your Workers' Comp benefits, which fully cover your medical bills. That includes the costs for travel, rehabilitation, and specialist care.
Disability Benefits
It's not easy to recover if you don't have the money to pay for your recovery. Your medical bills may be covered, but what about the costs to keep the lights on and food on the table for your family? Luckily, that's where your disability benefits kick in.
Disability benefits replace a portion of the income you lost. What percentage of your original wages you'll get depends on the severity of your injuries and whether you can return to work. For example, if you're able to work in some way, you may receive benefits for a shorter time than you would if you were unable to work at all.
Benefits for Fatal Accidents
If you've lost a loved one in a fatal car accident at their Virginia work site, you may still receive Workers' Comp benefits for your loss. Losing a loved one is always difficult, but when you rely on them for financial support, you're facing more than grief—you're facing serious financial penalties tied to your loss.
Family members may receive death benefits for their losses. These benefits include coverage for your loved one's burial costs (up to $10,000) and weekly wage replacement benefits. These cover a portion of what you would have received for their wages. These will continue until you're remarried or otherwise no longer eligible.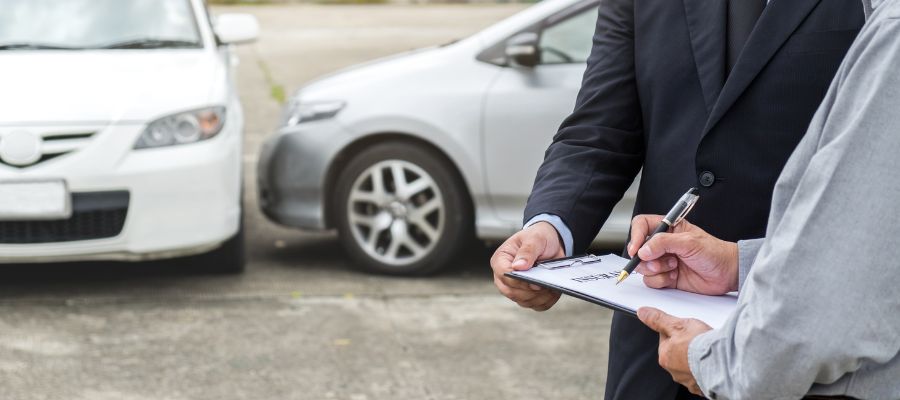 What If My Virginia Workers' Comp Claim Is Denied?
You may have been waiting by the mailbox for the letter offering you Workers' Comp benefits. But when you opened it, you had only a denial letter in your hand.
First, don't panic—a denial doesn't mean your Workers' Comp lawyer in Virginia can't help. We can read through your letter and find the reason for your denial. Then, we can start by gathering evidence to support your claim.
When your Workers' Comp claim is under question, we can strengthen your claim and then represent you at the hearing. We can work to show the Virginia Workers' Compensation Commission your due compensation for your injuries so you can get the benefits you're due following your car accident.
Contact a Virginia Work Accident Lawyer for Your Car Accident
If you've been injured in a Virginia car accident at work, you're facing severe injuries, costly expenses, and time away from work you can't afford. Worse, you may be unsure where to start on your Workers' Comp claim, from reporting to the final decision.
If you're having a tough time recovering from a car accident at work in Virginia, reach out to Pathfinder Law. We understand how tough your position can be, and we're here to lead the way to the benefits you need. Ready for a free consultation about your claim? Call 804-505-0633 or fill out the online form below to learn more about our services.
Virginia Workers' Comp Car Accident FAQ